DCAF and Chapter 3 update!
Hey guys! Sorry about disappearing for a while! I've been busy with animation work which has taken up a lot of my time. Also I was to San Diego for Comic-Con. So lots of things going on!
Anyways I wanted to let anyone who lives in the Halifax region know that I'll be at DCAF (which you can find out all about here!) this weekend selling this: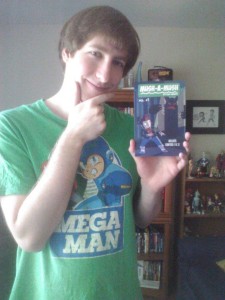 It's the first two chapters of Mush-A-Mush in book form! Yay! I'm pretty excited about finally having my own book to sell! It's really cool having stuff you drawn in book form!
I hope I see you there! It's going to be lots of fun!
The other thing I wanted to let you guys know about was when Chapter 3 of Mush-A-Mush would be starting. Work has been super busy lately as the project I'm working on is reaching it's end so I'm a bit behind than where I wanted to be. Right now it's looking like I won't be able to start updating until September. I'll set the date of September 6th for me to work towards. Hopefully you guys don't mind waiting a little longer! Sorry!
Anyways until then, continue having a great summer! Can't wait to get back to this!