Hooray chapter 1 is finished! I hope you all enjoyed it! It was super fun to do and I'm looking forward to starting the next chapter. Speaking of which I'll have some news on the front page about it, but the main gist of it is that chapter 2 will be starting in February. Check out that front page info for some more details!
I've also uploaded the rest of the storyboards. You can check them out after the break. Now that I've finished these up I was wondering if you guys had any suggestions for blog posts that you would like to see during chapter 2? I have a couple of ideas but I wouldn't mind having some more!
Oh yeah! So I finally got myself a Wii U! And I've been playing it every night! Nintendoland is pretty amazing and I like a lot of the aspects of the Wii U, especially Miiverse. Also I really like holding the Gamepad. It's got a nice feel to it. There's some weird things about it like how slow it is sometime but it doesn't bother me too much. We had a Nintendoland night last weekend and it was a blast. It's fun having good solid game to have a bunch of people over and just play for a couple hours. I'll be sure to give you more updated impressions as I get more games and as there are more system updates!
Anyways I hope everybody has a great holidays! Eat lots of food and do very little! That's my plan! I'll see you in February with chapter 2!
And now storyboards: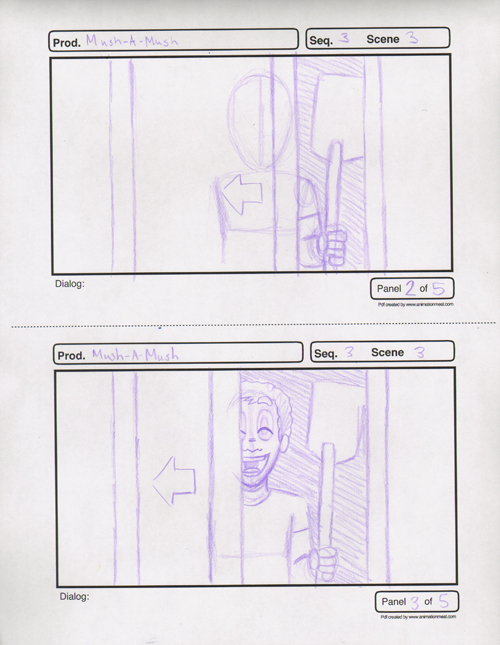 These storyboards cover pages 17 – 21! It's a whole bunch of panels for what only took me 5 pages of the comic to do. And looking at them now I can tell I was having a hard time staging when Sean comes to the house cause it's really not good. Oh well at least it was pretty fun to attempt it. But at this point I found out that I wasn't getting the grant I applied for so I made the decision to switch Mush-A-Mush to a comic and I stopped drawing the storyboards! Anyways I hope you enjoyed seeing some of my progress. There will be more in chapter 2!