Since I gave you a comparison of Allison when she showed up it's only fair that I do the same for Sean! So here you go! So his overall design hasn't changed too drastically. He just kinda looks a bit more crazy now. Plus he has a shirt. But that's probably gonna come off in […]
Hey guys! Not feeling the greatest so no write up or pictures today! Enjoy the page and have a great weekend! Me go bed now.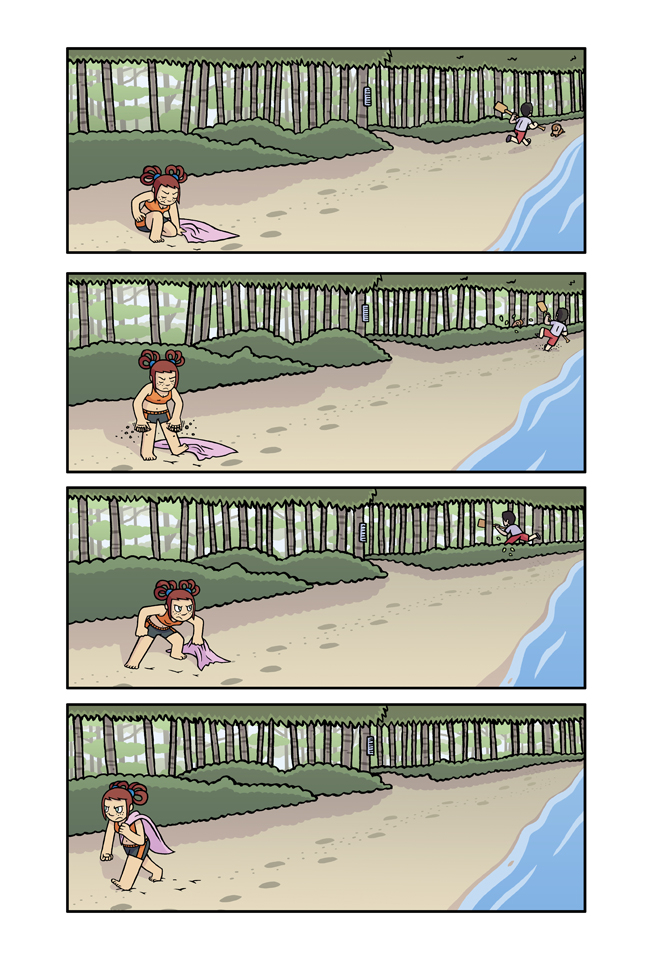 Yay! Another new page! This one took me forever to colour. You could probably easily guess why. But now finally we're going to get a change of scenery on Friday! That will be nice! Also on Friday I think I'll do up my real first substantial blog post. What will the topic be? I guess […]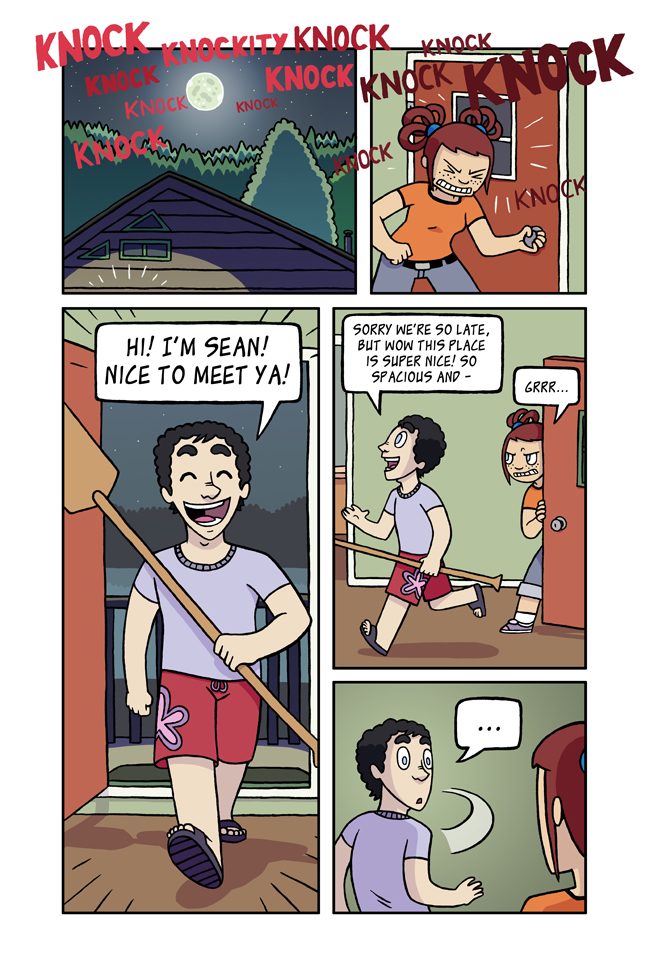 The website is nearly back to 100% so enjoy the page and hopefully everything will be straightened out by Friday on which I'll do up a write-up about Sean and the inspirations I used for creating him. See ya then!
So I said I would have a blog post today about the inspiration and creation of Sean, so here it is! This will be nowhere as in depth as Allison's was just because Sean only really has one inspiration (That I'm able to think of at this time.) So he's mostly based on, but slightly […]
Hey guys sorry for being late with today's page! My web site person Lissa was able to figure out a work around for the problems that needed fixing before I could start making regular post again myself!  She's been really awesome in not only putting my pages up but making sure I have a usable […]
Hey guys this would have been up a bit earlier but I was a bit distracted by rat problems. Thankfully that's taken care of now so here's a brand new comic for you! Also this weekend I am going to be at Hal-Con selling some prints and what not! So if you're in Halifax and […]
A rabbit squirrel hybrid thingy you say? That can't be a real thing right? I guess you'll have to stick around and find out if Sean is lying or not! Anyways enjoy the comic and see you on Friday! Also have a Happy Halloween tomorrow!
Too tired to write anything so I hope you enjoy the page!! Have a great weekend and see ya Tuesday!!
Alison's dad cracks me up. He's pretty great. Also those pictures on the wall are totally based on pictures in my parents house! That's all I have to say today! Enjoy the page and see you on Friday!!
Hooray we're finally to my favourite section of this first chapter! I like it for two reasons: The first is I think it looks good. Something about nighttime colours and the flashlight work really well together. And secondly we really get to see Sean and Allison really interact in a fun way. I think you […]
Learning about Sean today! Enjoy!
This is one of my favourite pages of this first chapter. I think Sean is just really funny on this page. Also I think the first three panels would be fun to animate. In the future I really hope I can do an animated chapter of Mush-A-Mush! I'll try my best to do that! Hey […]
Oh man! What is this? Could Sean have been actually telling the truth about this rabbit-squirrel? I guess we're going to find out soon! Anyways like I said on Friday, today I will be posting some storyboards from when I had planned to do this first chapter of Mush-A-Mush as an animated short. These six […]
I've been trying to get a Wii U the last couple of days but have had no luck yet. Perhaps I will have one by this weekend! I will be sure to keep you updated on this news! 😉 No storyboards today cause I'm lazy and Faith's computer is already off  (which has the scanner […]
I'm super happy with how this last panel turned out. I think it looks super cool. Anyways today I have a bunch more storyboards for you guys! This bunch covers pages 7 – 10! Check them out after the break! (There's a lot of them!)
Yup just an ordinary rabid squirrel! Anyways here's concept art I did of this scene WAY BACK in 2008: Allison's tone is a bit off in this and it's kinda ugly looking but it's awesome that I had some basis for this way back then. Anyways stay tuned, were getting real close to the end […]
Maybe Sean is crazy. That's not too hard to believe is it? Just THREE more pages until chapter 1 is wrapped up! Pretty exciting get this first one under my belt. Anyways like I promised here's even more storyboard pages after the break. I think I'll have the rest of them up on Friday. (But […]
Uh oh… Enjoy the page and have a great weekend!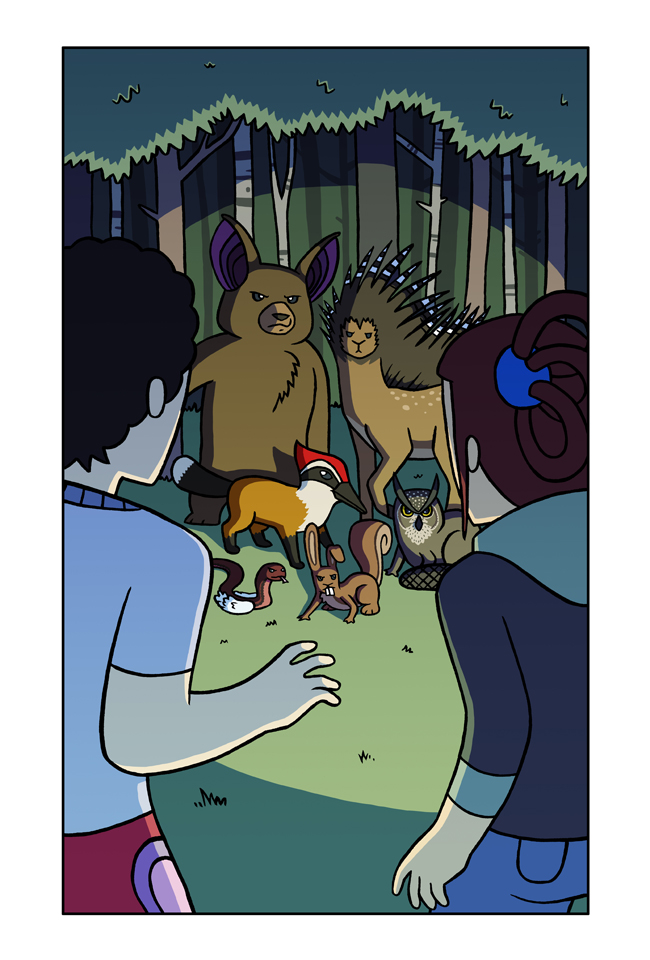 I bet none of you were expecting this! Things are going to get a whole lot weirder at Mush-A-Mush! See you on Friday for the last page of this chapter, the rest of the storyboard panels I promised and some news about upcoming chapters! It should be fun!
Hooray chapter 1 is finished! I hope you all enjoyed it! It was super fun to do and I'm looking forward to starting the next chapter. Speaking of which I'll have some news on the front page about it, but the main gist of it is that chapter 2 will be starting in February. Check […]
Let's get the comic-y goodness started! Enjoy the page and see you next Tuesday!
We get to start learning a little bit about Allison's dad today! And here's even more you can learn about him: He may be sorta named after someone who runs a certain comic book store around here. Anyways next week Mush-A-Mush should be returning to two pages a week unless something really major comes up. […]
I like how Sean is trying to play the tough detective interrogator but he just goes in and out of character so quickly! Anyways, we are back to two updates a week again so I hope you enjoy today's comic and then come on back Friday for another one! See ya then!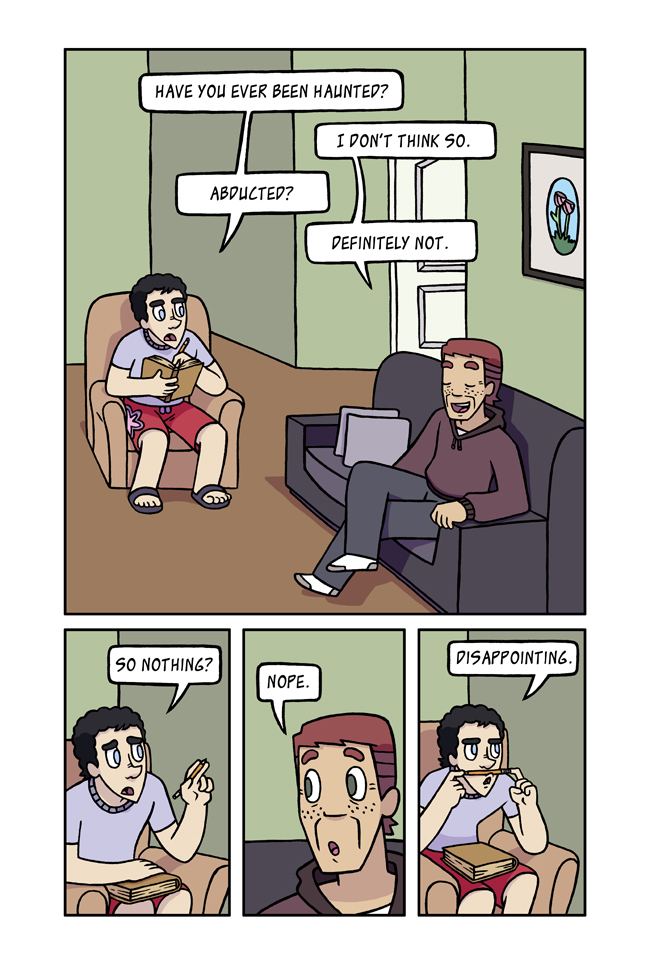 Nothing to say today, so enjoy the page, have a great weekend and see you guys back here on Tuesday!
That's an interesting question Sean. I wonder if you'll get your answer on the next page? 😉 Anyways things are still moving along! Hopefully I'll get a chance in the near future to do an actual blog post! Maybe I'll do a write-up about the X-Files since I'm nearly done watching all of that! If […]
It's too late to write anything tonight but maybe I will tomorrow but no promises! Enjoy the page and have a good weekend!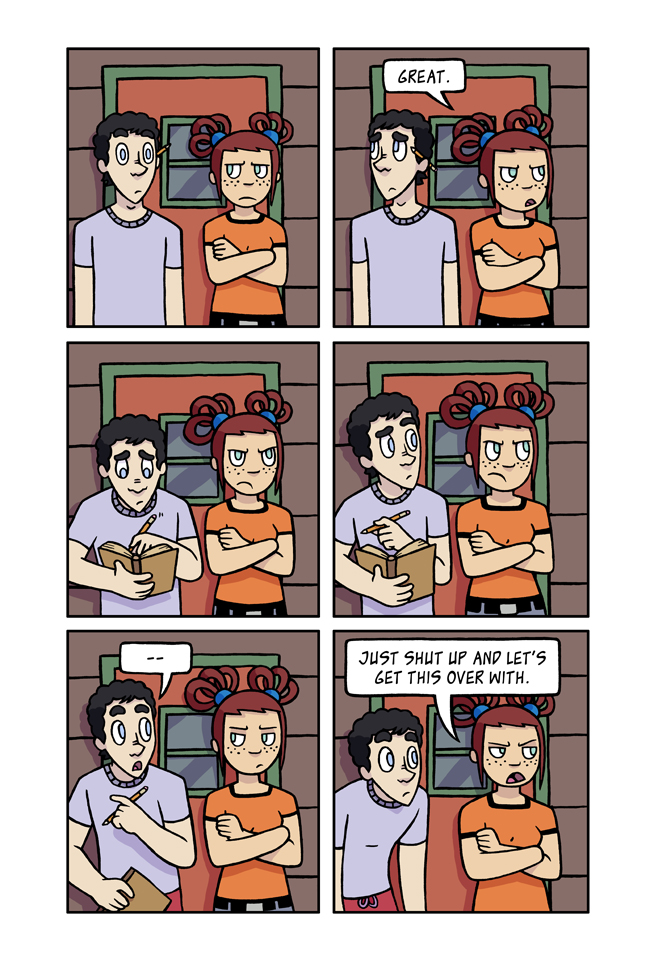 I wish I wasn't so busy at work so I could write up more blog posts. There's stuff I want to do but it's hard to get around to it. I really need to set some time aside to do one soon. I think I'll set a goal right now to do at least one […]
I completely forgot to upload this last night! That's what happens when I'm too busy working! Oh well it's up now! Hope you enjoy the page! Have a great Easter weekend!
True fact: I grew up in a Christmas tree lot. Well technically our house was surrounded by a Christmas tree lot, which is owned by my Grandfather. And luckily I only had to help shear them once (I presume I did such a bad job that he didn't want to ask me again.) Anyways it's […]
It's too late for me to write anything so enjoy the page and see you Tuesday!
Forgot to upload this last night because I was up late working on work! Speaking of which, unfortunately for at least this week I'll only be posting the one comic. Just a little bit too swamped with work to get a second one up. Sorry! Hopefully I can get back to the two a week […]
Have I said how much I love Allison's stubbornness? Cause I do. It's great. Anyways only one comic page again this week. I should hopefully be back to two next week. I don't like this only putting up one business! And also hopefully I'll do a full blog post next week as well! Enjoy the […]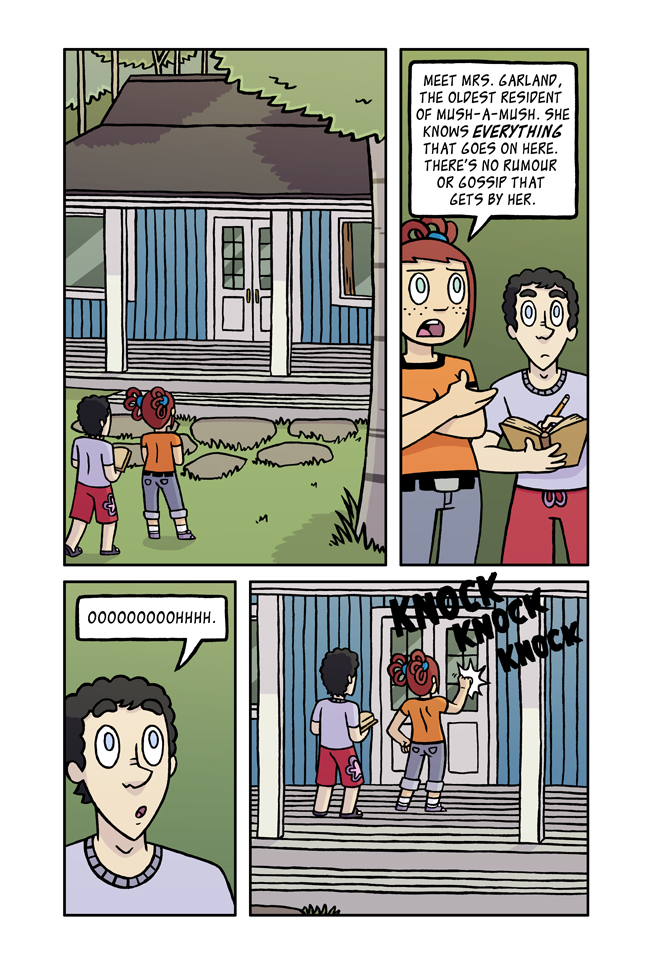 The page is done and up! Hopefully I might have another one for Friday but this work week might be a bit crazy busy so we'll see! I'll try my best! Anyways it's too late and I need to head to bed! Enjoy the page and see you later!
It's too late to write up anything now. It's pretty amazing that I was able to get this page done at all. That's how much I was swamped with work. I think this week is much lighter so maybe I'll get another one done for Friday! Here's hoping! Anyways enjoy the comic and see you […]
I wasn't lying this week! There's actually a new comic for Friday! It helped being a much lighter work week! Hopefully I can keep this up. Might be a bit difficult next week with TCAF happening. But I'll try my best. And also hopefully I'll start doing up more blog post. I just need to […]
How many more times will Sean get dragged away by Allison in Mush-A-Mush? Who knows! Only time will tell! Anyways this weekend I'm going to TCAF. I'm working hard to have comics for this Friday and next Tuesday while I'm gone but I might only get one done for Tuesday. But never say never! So […]
Posting this before I head off for TCAF but you guys won't see it till Tuesday! Sorry about not getting a comic done for Friday. There was just too much to do before we headed out. Anyways this page was fun to do. And I'm pretty happy with how it turned out. Hope you enjoy […]
I'm back from TCAF! And nearly over the terrible cough I picked up there! It was a fun trip to Toronto! It's just always nice to go up there every once in a while and just take it easy. I like seeing the crowd of TCAF and enjoy hanging at Faith's table and seeing how […]
Hooray a comic on Friday! Hopefully I can continue updating twice a week. I don't think I'll be as busy so I'll cross my fingers! Anyways nothing to say today! I'll see you guys on Tuesday! Enjoy the comic!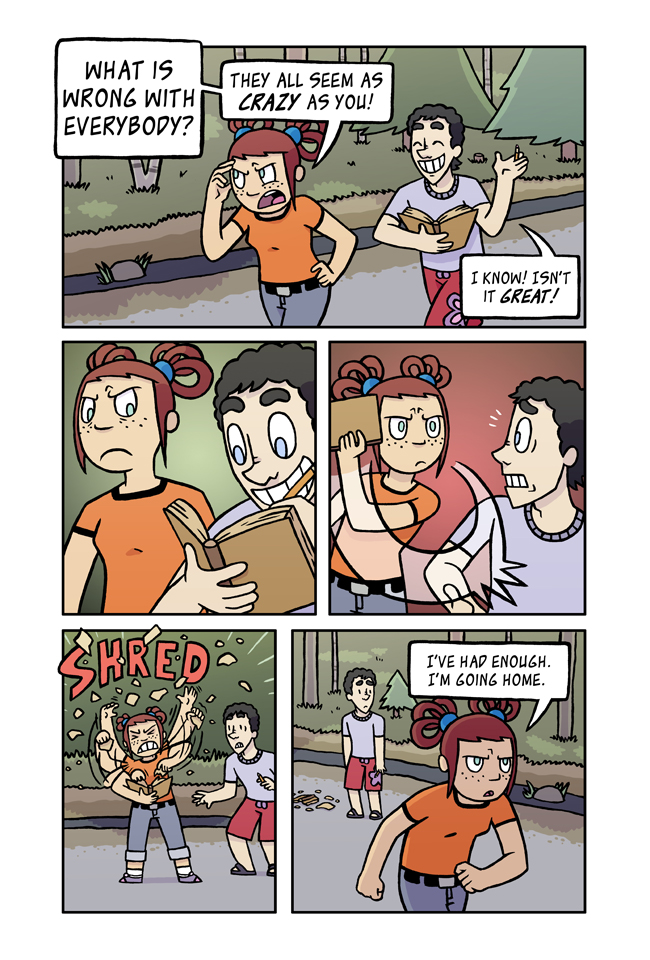 It's way too late to write anything so instead I'm going to head to bed! Enjoy the page and see you on Friday!
It's late and I need to wake up early tomorrow! So enjoy the comic and I'll see you Tuesday!
Barely got this one done on time! I was gone away Saturday playing golf (which was quite fun) and I usually draw comics on Saturdays so that kinda put me behind! But no worries cause it's up now! Although I'm not sure if I'll be able to get a comic done for Friday yet. Thursday […]
Pretty late like usual so I'm not going to say much! However I will say I am pretty pumped for tomorrow's Nintendo Direct! Should be pretty awesome! (Hopefully!) Anyways see you guys on Friday! Enjoy the page!
I'm not even going to pretend to write anything. I'm heading straight to bed now! Enjoy the page and see you Tuesday!
Finally get to see the inside of Sean's house and it's pink! Looks pretty nice! Anyways it's late again and I need to head to bed! So enjoy the comic! Hopefully there will be another new one on Friday. I can't promise that though but I'll try my hardest! Have a good week!
Surprise Monday update!! Sorry for not updating on Friday but to make up for that, and to finish off chapter 2, Mush-A-Mush will be updating 3 times this week! Yay! There's the comic today, along with new pages on Wednesday and Friday! I hope you guys enjoy all the comic goodness! Anyways time for me […]
Isn't that nice of Sean! So thoughtful! Anyways, the second last page of Chapter 2! Hope you enjoy it! Come back on Friday for the final page and for some news about the next chapter and other various things! See ya then!
And with this page Chapter 2 is finished! I hope you all enjoyed it and are looking forward to the next chapter! Speaking of which I thought I would give a couple details about when Chapter 3 would be starting up. So I don't have a concrete date yet but I'm thinking that it's not […]
Finally done with the madness of work which means chapter 3 of Mush-A-Mush can finally really begin! Yay! I'll be back on Friday with another page and a proper blog post about my trip to San Diego! Today I'm just going to link to the Shantae Kickstarter! You should all go support that game because […]